The Atlanta Braves have agreed to a one-year, $12.5 million contract with veteran right-hander, Bartolo Colon.  This morning's initial news was that Colon would not re-sign with the New York Mets, and that he had agreed to a contact with a mystery team.  That mystery team turned out to be the Braves
Mark Bowman of MLB.com tweeted this morning that the deal was in place but, was pending a physical.  The terms had not yet been disclosed.
The terms of the deal would be announced by Ken Rosenthal about 25 minutes later.
Just a day after signing another aging veteran in R.A. Dickey, the Braves pulled the trigger on another 40-year plus veteran.  Just to put that into perspective, in the last two days, the Braves have committed to paying $20.5 Million to two pitchers with an average age of 42.5 years, while in 2016, not a single player eclipsed the age of 40.
At the beginning of this offseason, Braves general manager John Coppolella stated that the Braves were on the hunt for two veteran starting pitchers to add stability to a rotation that until yesterday, could only count on Julio Teheran and Mike Foltynewicz. Just like that, the Braves have a solid foundation for their 2017 pitching staff in the two youngsters paired with the two veterans.  Yesterday they took Dickey, today they took Bartolo Colon.
Bartolo Colon
Experience, enthusiasm, and excellence are all things that Colon bring to the table for the Braves.  Over 19 seasons in the MLB, Colon has posted a career 3.93 ERA in over 3000 innings pitched.  The 4-time all-star has been to the playoffs seven times, including the 2015 World Series with the New York Mets.  Throw in a Cy Young award in 2005 when he went 21-8 with a 3.48 ERA in 222 innings pitched, and you have a solid rotation anchor that will be a valuable innings eater for a club that desperately needs one.
The price tag however, is a topic up for debate.  Paying any 43-year old professional athlete $12.5 million seems like a bit of poor judgement however, Colon has been an "ageless wonder" over these last few seasons.  The last time Colon made over $12 million in one season was 2007 with the Angels ($16 million) but, considering the incredibly weak free-agent market for starting pitchers as well as the overall value that has been placed on starting pitching, this contract seems fairly reasonable.
In the past two days, the Braves have made two impact signings that will provide depth and experience to a rotation that had many question marks surrounding its make-up.  Brian Snitker now has plenty of talent to work with when deciding who will throw on which days.
Assuming that Teheran is made opening day starter for the 4th time in a row, the rotation that follows could actually hold their own.  Putting Colon in the second spot, just before Foltynewicz in the third spot (while he still develops), would create variety in the rotation.  Teams that will see Colon and Foltynewicz on back-to-back days will be off balance in the difference of pitching styles.  The difference in pitching styles might have been part of the success he found in New York, when he had flamethowers in every other spot in the rotation.  Throw in Dickey as the number four starter after Foltynewicz and there is even more variety.
If Coppolella has done anything by signing Colon, he has made Braves baseball fun to watch again.  Not to mention the wow factor of a knuckleballer in R.A. Dickey.  These two pitchers will make the 2017 season one to watch, for two completely different reasons.
Dickey, for this:
And of course, Big Sexy: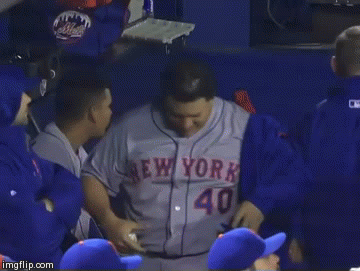 Colon is a tremendous athlete (no, really) that will bring heart and hustle to the Atlanta Braves clubhouse.  He has a great skill set as well as a vast depth of knowledge that will help prepare the younger starters for the careers they have ahead of them.
Plus, that swing.