For the second straight time in the playoffs, Atlanta will host a team they played during the regular season. This time, the winner goes to Super Bowl LI to take on either the Steelers or Patriots! Sunday at 3:05pm, the Falcons and Packers will face off in what is expected to be a high scoring affair led by two elite quarterbacks. The Falcons will be trying to give the Dome one final victory and advance to the Super Bowl for the first time since '98. The only obstacle in their way is the flaming hot Packers. Aaron Rodgers has led Green Bay to 8 consecutive wins. This includes last week's upset on the road against Dallas in the Divisional round. Although Atlanta did sneak by Green Bay 33-32 in week 8, their biggest test of the year is likely coming up. But even though Green Bay is a hot team, Atlanta could very well be as hot. Atlanta's won 5 games in a row averaging 38 points scored in those games.  Kyle Shanahan's offense has proven to be nearly impossible to slow down. On the other side of spectrum, Aaron Rodgers has proven himself to be practically impossible to slow down too. With both teams offenses likely to prevail, here's the key factors leading to which team will come out on top Sunday.
Falcon's offense vs. Green Bay's defense:  It's no question the Falcon's offense has been spectacular all season. They're 1st in the NFL in PPG and have scored 30+ in their last 5 games. No matter how strong the defense Atlanta is up against, it's almost always a productive day for Atlanta's offense. Green Bay defensively has been around average throughout the course of the season, as far as points given up. But, Green Bay has a lackluster secondary that should allow the Falcons to strike quick and often. Star players such as Clay Matthews and Morgan Burnett add fear into opposing quarterbacks as they create turnovers and consistently make good defensive plays. However, they'll have a tough task trying to make plays off MVP candidate Matt Ryan. Not to mention the numerous weapons he has at hand, such as Julio Jones, Mohamad Sanu, Devonta Freeman, Tevin Coleman, and many more. Expect for yet another strong offensive show out from Atlanta on Sunday.
Green Bay's offense vs. Falcon's defense: Even though Atlanta may statistically have the best offense, many people argue it's Green Bay's that's best. Green Bay ranks 4th in PPG and 1st in passing TD's across the NFL. Behind Arron Rodgers, the Packers can easily have one of the most dangerous offenses of the remaining four. During the wild card round of the playoffs, Green Bay torched the "best defense" for 38 points. Vic Beasley must do a great job containing Rodgers, and the Falcon's secondary will also have to step up and cover downfield for Atlanta to stand a chance at stopping Green Bay. It's unrealistic to assume Atlanta will be able to shut down Rodgers, but if they make just a few big stops on 3rd down, it can prove crucial as the ball will be back in the hands of the Falcon's powerful offense. Atlanta has been slightly below average at stopping the rushing game, luckily for them, Green Bay isn't a rushing team. Stopping TY Montgomery is still something Atlanta must do as it will make Green Bay one dimensional and force them to rely on the passing attack. If Aaron Rodgers has a bad game or the Falcon's defense forces Aaron Rodgers to be anything less than average, expect a bad day from Green Bay. If Aaron Rodgers continues his playoff excellence, look for Green Bay's points total to be 30+, even against a Falcon's defense that is seemingly improving.
Special team's comparison: Matt Bryant has nearly been the definition of automatic for the Falcons this season. No one is more reliable than 41-year-old veteran Matt Bryant. Any field goal within the 50 and under range you can go ahead and add 3 points to the score before he even kicks it. Knock on wood, Atlanta probably feels very comfortable with where they're at in the kicking category. Punter and kickoff specialist Matt Bosher has done everything he's been asked of, but he'll have to be sure to put the kickoffs through the end zone to prevent lengthy retunes like Devin Hester did to Atlanta last week. The kicker for Green Bay is Mason Crosby. You may remember the clutch game winner he made against Dallas last week. He's 32 years old with a career long of 57 yards. His strength compared to other kickers across the NFL is around average, but it's his consistency that separates him. Crosby made 86.7% percent of his field goals this season. No return specialist has made a huge impact for either of the two teams. All things considered, the special teams are probably even with the slight advantage towards Atlanta.
Key players: Falcon's players: Matt Ryan will be the key to the Falcons winning. His passer rating is 1st in the league and Ryan has thrown for 38 TD's compared to only 7 INT'S. Ryan also completes 70% of his passes and it's almost a given he'll get over 200 yards as he's done it 55 straight times. His credentials go on and on, but it's still going to take more than him to win. Devonta Freeman and Tevin Coleman must continue their excellence not only to pick up first downs, but also to open the passing game. If the linebackers for the Packers have to pinch assuming a rushing play, Ryan can get big plays over the middle. Another star on the Falcon's offense that comes to mind is Julio Jones. He's been dealing with a turf toe injury, but Dan Quinn has stated he will play. Julio Jones is easily Ryan's number 1 option and it's important for him to continue his play of an elite receiver. When Julio Jones is on the field, that leaves a good matchup for Mohamad Sanu as he's a stellar tier two receiver. On the defensive side, Keanu Neal must be a stand out. Creating big hits and forcing fumbles is Keanu's specialty. If he does that on Sunday, good things will happen for Atlanta. The corners for the Falcon's won't be facing amazing receivers, but the problem is the receivers look amazing when Aaron Rodgers is throwing the ball. The Packers are likely to be without Jordy Nelson, making things slightly easier for the Falcon's secondary.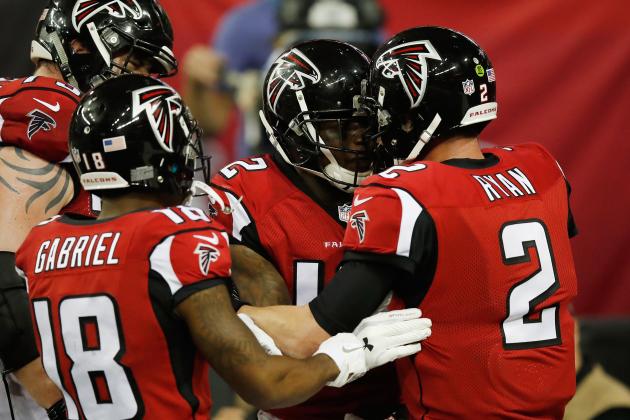 Green Bay's Key player: To keep things simple, I'm going over one key player for Green Bay. You can probably guess who it is. Aaron Rodgers. It's been said all year that without Aaron Rodgers the Packers are nothing. Many people want him to be MVP because of that. Rodger's is ranked 2nd in QB passer rating. He's thrown for more TD's than any other QB. He's the one star that even the Packers bandwagon fans can name in less than 2 seconds. I can say without any doubt, if the Falcons find a way to stop him, they'll be off to the Super Bowl.
Prediction/ Falcons:37 Green Bay:31
Falcon's injury report(via atlantafalcons.com)
Green Bay's injury report(via Packers.com)
Adams, Davante
WR
Ankle
DNP
DNP
Allison, Geronimo
WR
Hamstring
DNP
DNP
Burnett, Morgan
S
Quadricep
DNP
DNP
Crosby, Mason
K
Illness
DNP
FP
Elliott, Jayrone
LB
Hand
FP
FP
Janis, Jeff
WR
Quadricep
LP
FP
Lang, T.J.
G
Foot
LP
LP
Matthews, Clay
LB
Shoulder
FP
FP
Nelson, Jordy
WR
Ribs
LP
LP
Peppers, Julius
LB
Not Injury Related
DNP
FP
Perry, Nick
LB
Hand
FP
FP
Rollins, Quinten
CB
Neck
LP
LP
Starks, James
RB
Concussion
DNP
DNP
Tretter, JC
C/G
Knee
DNP
DNP
Image 1 received from: https://cdn0.vox-cdn.com/thumbor/3MbrcMuHZnkBHwOJRe0Yxa7hx6Y=/0x0:2498×1665/352×235/cdn0.vox-cdn.com/uploads/chorus_image/image/51595229/usa-today-8259866.0.jpg
Image 2 received from: https://cdn0.vox-cdn.com/thumbor/y9ZojOyzXbtCl7vsID61p0ZEfLo=/0x0:2805×1578/1600×900/cdn0.vox-cdn.com/uploads/chorus_image/image/51740633/usa_today_9644539.0.jpg
Image 3 received from: http://prod.static.falcons.clubs.nfl.com/assets/images/imported/ATL/photos/clubimages/2014/10-October/tempMatt_Bryant_101314_0016–nfl_mezz_1280_1024.jpg
Image 4 received from: http://img.bleacherreport.net/img/images/photos/003/653/664/hi-res-972d32af00782df0c72d308c6f5f1dc3_crop_north.jpg?w=630&h=420&q=75
Image 5 received from: http://static5.businessinsider.com/image/5873b279f10a9a51098b749c-1190-625/aaron-rodgers-explains-how-he-throws-the-perfect-hail-mary.jpg